MOST REVEREND ROGER J. FOYS, D.D.
Bishop of Covington
Dates to Remember:
December 6th - No School
December 9th - No School
December 10th, 11th, 12th - Santa's Workshop
December 11th - Christmas Program (1st through 4th Grades)
December 20th - Early Dismissal at 11:00 (No PM Bus Transportation or Aftercare)
Dates to Remember:
December 23rd through January 3rd - Christmas Break
January 6th - School Resumes
January 20th - No School
January 27th through January 31st - Catholics School Week
Looking for volunteers in the cafeteria! Sign up here. Thank you!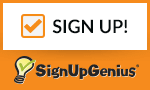 After School Care Registration:  Make sure to complete your registration for the after school program.  Students may not attend until registration is completed.  Sign up by clicking below:
Our Mission
St. Timothy Catholic School will unite with families to extend the mission of our parish to "Stir into Flame the Gift of God" (2 Timothy 1:6).  The school compliments the Worship, Community, Outreach and Faith Formation ministries of our parish.  We accommodate children of varied learning styles and economic backgrounds and strive for the excellence of each student's academic, social, emotional  and physical growth deeply rooted in our Catholic Faith.  Especially through Service Learning, our students will become active and responsible citizens who embrace the teaching and Gospel message of Jesus Christ and His Church put into practice.
As a Catholic School, St. Timothy will encourage all of our families to attend Mass together and be actively involved in the parish , school and multiple Service Learning Opportunities.
SNACK TIME WITH TIM: Who's the Best Driver in the House with St. Timothy 2nd Graders
Mrs. Roberts invited Tim with Q102 to have snack with her 2nd graders at St. Timothy Catholic School in Union, KY.  The kids LOVED Snack Time with Tim and LOVED to chat!  He asked them who is the best driver in their house?
Listen to what our kids had to say
---